In Pursuit of Golfing Excellence at El Rompido
Test your skills at one of the best clubs in southern Spain. Our experts tell you why El Rompido is an unmissable golfing experience.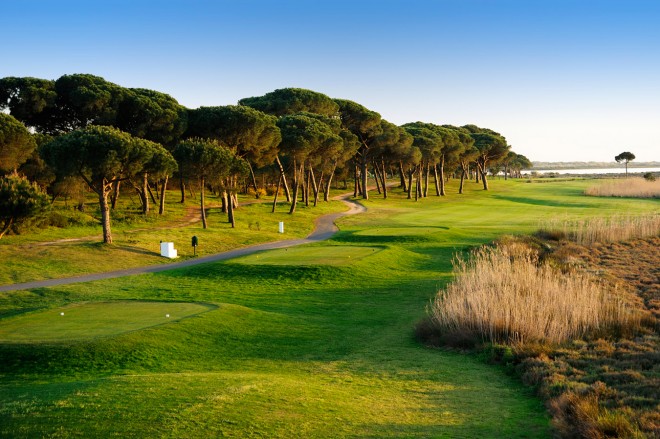 We at A Golfing Experience pride ourselves in seeking out the crème de la crème of club
destinations. As golfing experts, we know what to look for in the top courses and holiday
hotspots: excellent weather, manicured greens, and interesting terrain. If this sounds like
your dream getaway, then look no further than Costa de la Luz in the southwest of Spain,
which ticks all these boxes and more.
El Rompido Golf Club
This stunning complex is by far our favourite in the area, and once you've seen it for
yourself, you'll understand why. Its situation in Huelva province gives this club a unique
terrain that blends in with the beautiful wetlands of River Piedras. Visitors will get to enjoy
the natural surroundings of pine and orange trees and the vast Atlantic Ocean, thanks to the
lack of property development. With spectacular views all around and the resort itself offering
up challenging twists and turns, El Rompido transforms the game into an exciting event.
El Rompido is the only club in the region to offer two 18-hole courses, giving you even more
variety. Choose from the North or the South course with the help of our brief overview.
Campo Norte
A few years younger than the original South course, the Campo Norte is a more elevated
landscape with longer and wider fairways. It may be flat but the strategic water hazards and
a couple of tricky par fives in the front nine render the difficulty at moderate to hard.
However, it's a fun location to play, especially on the sixteenth which is located on the edge
of the march, giving you a particularly tough shot to make.

Campo Sur
Campo Norte's older sister may have shorter fairways but that doesn't mean it's any less
challenging. Built to USGA specification and set close to a pretty little fishing village, Campo
Sur provides visitors with natural beauty and a satisfying challenge. Try your hand at this
standard-setting course before following it up with a round at the Northern greens.

Recommended Accommodation
To make your golfing experience unforgettable, we recommend staying at the superior
Precise Resort El Rompido. Not only will you be able to wake up and walk straight onto the
driving range, but you'll be treated to 5-star luxury that will make even the toughest hole
enjoyable.

Surrounded by stunning Spanish flora and fauna with a picturesque fishing village nearby
and a spectacular view of the sea, El Rompido is the perfect treat offering guests delights
such as a sunset sail, onsite spa treatments, and delicious cuisine.

Choose from a room or a suite, both of which have the options of a sun-catching balcony
and terrace. If you really feel like splashing out, there are also a few family apartments
available for larger groups.
If this sounds like your dream getaway, contact one of our friendly experts to arrange all the details so that all you have to do is practice your putt and prepare for a golfing experience of a lifetime.Call 01494 875164