Restaurants Galore at the Grand Geneva Resort
The Grand Geneva Resort in Wisconsin is a superb choice for
American golf holidays – and you're guaranteed not to go hungry!​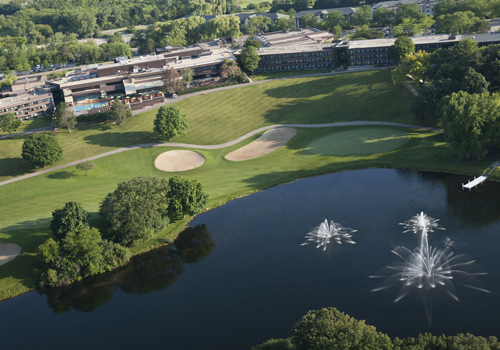 At A Golfing Experience, our American golf holidays might include a few surprises for those
who think they know their geography. How does Lake Geneva sound? Well, the excellent
Grand Geneva Resort & Spa is not, as you may have thought, in Europe, but actually in a
stunning setting in southeast Wisconsin.
The Grand Geneva Resort
For those in the know, this magnificent resort, set within 1300 acres of woodland, is near
Lake Geneva, one of the top places for American golf holidays. As well as providing one of
the most picturesque backdrops you could imagine, the two 18-hole world-class courses are
amongst the best in the Midwest.
Of course, while top-notch golf facilities are high on the list, the accommodation is just as
important an issue when you're planning American golf holidays. The good news is that this
resort has it all: a choice of beautiful villas, excellent spa and fitness amenities and, to top it
off, a superb range of dining options. Allow us to elaborate on the last point and whet your
appetite.
Geneva ChopHouse

This restaurant is all about steaks and seafood – and then some. Open every night for
dinner and also for Sunday brunch, the ChopHouse offers a mouth-watering range of top-
quality steaks and seafood, their unique and highly flavoursome recipes cooked on an open-
hearth grill. What makes it so special though is the attention to detail when it comes to wine
pairings, and the restaurant has been awarded for its range. Here's something to ponder:
whiskey-wrapped dry-aged steaks with a fine local Cabernet.
Ristorante Brissago
With stunning rural views and an intimate ambience, Ristorante Brissago, located in an
elevated position in the resort, serves up Italian cuisine with true style. You can start with a
cocktail from their extensive menu, then move on to seasonal classics like rigatoni al ragu or
salsiccia al forno from the wood-fired oven. If you're travelling with a larger group, or if you
happen to make a lot of new friends while you're out there playing, you can even book a
private dining experience. Bellissimo!